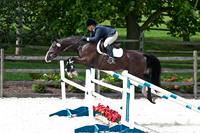 KWPN Keuring at Iron Spring Farm
Sheryl Wilkins has been working around horses for over 30 years. She has spent time working at many different farms gaining experience with different disiplines. Early on Sheryl showed in eventing. Later, there were horses that were being geared for the dressage arena. Sheryl's love is the hunter jumpers and spends most of her time training and coaching for these shows.
Sheryl has attended many clinics including, Gunnar Ostergaard, Bert DeNemethy, Lendon Grey, Bonnie Bennello, George Morris, Tad Coffin, and Michael Page, to name a few. Sheryl believes in slow training with a focus on the basics.
Sheryl works with a large variety of riders at this time. Beginners up through AO Jumpers. As a rider, Sheryl is exceptional with young hunters. She has ridden many babies that have been sold to successful show homes. Sheryl's patience is key to developing young hunters. She has a way with the young hunters that gives them courage and builds them into confident jumping horses.
Copyright Eastern Prospects 2008-2017 All rights reserved
Web Hosting powered by Network Solutions®